1984-1986
The idea for making a line of historically accurate dolls first came to Pleasant T. Rowland, founder of Pleasant Company, in 1984 while on vacation in Colonial Williamsburg. During this trip Ms. Rowland realized that history can be made to come alive, and ultimately be more interesting, through immersion. Ms. Rowland, with her background in elementary school teaching, wanted to find a way to make history interesting for children on a level equal to her Williamsburg experience.
Her idea found its root the following Christmas while trying to buy dolls for her two nieces. She felt her only options were Barbie dolls or Cabbage Patch Kids, neither of which appealed to her. On the one hand Barbie dolls encourage girls to grow up and be adults, whereas the Cabbage Patch Kids promoted motherhood, but neither of them focused on girlhood itself. Ms. Rowland realized that what was missing from the doll market was a doll that was the same age as the target consumer. In essence a little girl doll for a little girl. This concept combined with Ms. Rowland's recent trip to Williamsburg to form what we now know as the American Girl's Collection, a collection of historically accurate 18" dolls that are well made, teach about the past, and are the same age as the majority of the girls that buy them.
The dolls in the American Girl Collection were based on a Goetz doll face mold and body style. The Goetz doll that the American Girl was based on was found in the basement of Marshall Fields by a friend off Mrs. Rowland who had been sent out in search of a nice doll. The first American Girl dolls were actually manufactured in Germany by the Goetz doll manufactures.
| | |
| --- | --- |
| Goetz Doll 1980's | Molly Doll 1986 |
The American Girl doll collection hit the market during the fall and Holiday seasons of 1986 when 500,000 catalogs were distributed nationwide. At first the only dolls available were Kirsten (1854), Samantha (1904), and Molly (1944); the first three books in their series (Meet _____, _____ Learns a Lesson, and _____'s Surprise); and the matching clothes and accessories for these books. The dolls were at first sold exclusively through the Pleasant Company catalog. Between September 1st and December 31st, 1986 the American Girl line sold $1.7 million in books, dolls, and the related accessories. The dolls were immediately a hit for an audience that was previously ignored by the toy industry, namely girls from the 8-12 age range.
* Above information compiled from http://www.fortune.com/fortune/fsb/specials/innovators/rowland.html
1987
Three new books were introduced for each of the three dolls. The books were Happy Birthday _____, _____ Saves the Day, and Changes for _____. New outfits and accessories were also added to each doll's collection to correspond with the new books.
1988
Matching outfits are produced and sold for girls to "Dress like your doll!" The Doll Travel Set and matching American Girls Luggage for Girls.
1989
A new outfit was added to the collection of each doll this year. The outfits did not have books or matching accessories, but the outfits were taking from illustrations from the first books in each doll's series. Kirsten's new outfit was the Swedish Dirndl outfit she wore on the boat from Sweden to America, Samantha's outfit was her Play Dress & Pinafore, and Molly's was the Halloween Hula Costume which also came with a treat bag.
The American Girls Collection was expanded with the introduction of doll related crafts as well as paper dolls, theater, and cookbook, to name a few. Each of these books featured all three dolls and were called Past Time Kits. The doll dress patterns were also introduced at this time. Interestingly, girls could order a "subscription" where they could get one of the activity/craft books each month for a year.
1990
In 1990 Our New baby arrived as a small insert into the Summer 1990 catalog. The historical dolls also received new items including desks for Samantha and Molly, and the school bench for Kirsten.
1991
New outfits were again added to the doll's collection, Kirsten's work dress, Samantha's Tea Dress, and Molly's After School Outfit's as well as a set of extra shoes and socks and a set of extra hair bows for each doll.
IN the spring catalogs Our New Baby is officially part of the catalog. Her collection is in the back and upside down from the regular sections.

1991 saw the first doll addition to the American Girls collection: Felicity (1774). In the spring tastes of her collections were shown but her official release came in the Holiday catalog. These items included the Felicity doll and book; her Christmas book, outfit, and accessories; school book, outfit, and accessories; and her bed, clothes press, and night gown, and the candle stick and bed warmer before her Pretty Polly book was added. It is interesting to note that it was Mrs. Rowland's trip to Colonial Williamsburg that in part stimulated the idea for the American Girls Collection, yet it wouldn't't be until five years later that Felicity, a colonial doll, was actually added to the collection.

It was also at this time that the cloth bodies of the dolls changed from a whitish muslin color to a color that matched the skin tone of the arms, legs, and head. This change was no doubt made because of the lower necklines on Felicity's dresses which showed more of the cloth body under her clothes.Some white bodied dolls like Samantha, were sold still into the early 1990's. Another strange note is that some collectors report purchasing white bodied Felicity dolls.
Molly 1990
white cloth body

Felicity 1991
skin tone cloth body
1992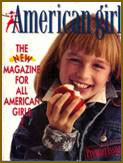 The second half of Felicity's collection was introduced in the Holiday 1992 collection. This included her birthday book, outfit, furniture, and accessories; summer book, outfit, and accessories; and the winter book, outfit, and accessories.

A doll sent to the American Girl doll hospital now returns home in a hospital gown and hospital bracelet. The doll also carries a "Get Well Soon" balloon and has a certificate of good health. The dolls are returned in a special pink hospital box with a band aid printed in the front.
American Girl Magazine debuts in the fall of 1992.
1993

In the holiday 1993 catalog the Addy doll (1864) and book were first introduced, along with her school and Christmas books and the corresponding clothes and accessories. Addy's nightgown, trunk, bed, and family album quilt, as well as a night stand and nighttime necessities were also introduced at this time.

Nightstands and nighttime necessities were added to the collections of Felicity, Kirsten, Samantha, and Molly as. Felicity's bed warmer and candlestick, along with a newly added Pretty Polly book, became her nighttime necessities. Kirsten's Housecoat and Sockor, Samantha's Kimono and slippers, and Molly's Robe and Fuzzy-Wuzzies were added in the Holiday 1993 catalog. Felicity's collections expanded to include a Work Gown and green Riding Habit.
The paper dolls, corresponding to each of the American Girl dolls, were introduced in 1993.
1994
Addy's next three books, along with the matching outfits and accessories are introduced this year. Also Molly's radio is added to her Christmas collection.
Theater, craft, and cookbooks, and paper dolls were introduced for each of the dolls.
1995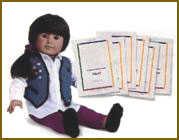 The American Girl of Today Collection was introduced in the Holiday catalog of 1995. There were originally twenty skin, hair, and eye combinations that one could chose from. The doll could be chosen to look like the girl receiving her or be someone entirely new. The concept behind the dolls was, "She's just like you. You're a part of history too!" The dolls originally came with a set of six blank books that the new owner could write her doll's story in. The blank books followed the same pattern as the historical dolls. Meet_____, _____ Learns a Lesson, _____'s Surprise, Happy Birthday _____, _____Saves the Day, and Changes for _____. By writing the stories the owner of the doll would, in essence, be creating her own unique doll. Each blank book also came with a writing guide and a stencil was included with the set as well. To go along with the Girl of Today dolls was also a set of mini historical American Girl dolls so the owner of the doll could buy her doll what every American girl wishes for—an American Girl Doll.
New outfits were added to Addy's collection. Her new dresses were the Patriotic Party Dress and the Work Dress with Apron that also had a pair of matching Work Shoes which could be purchased separately. Addy's Shoes and Socks as well as her extra set of ribbons were also added at this time.
1996

1996 marked the tenth anniversary for the American Girls Collection.
Special matching commemorative shirts were made for girls and dolls. The shirts simply said "Proud to be an American Girl," and were only available for one year.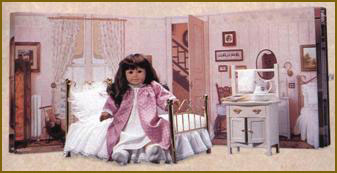 The "Meet" outfit for the American Girl of Today changes to yellow fleece jacket with black leggings and matching accessories.

Scenes and Settings were added to the collections of Felicity, Kirsten, Addy, Samantha, and Molly. These were essentially large books that had pictures of the houses and surrounding land in each of the American Girl's stories. Each scene, when opened, measured 58" x 24".


1997
Special, Limited Edition outfits are introduced for Felicity, Kirsten, Addy, Samantha, and Molly. These outfits included Felicity's Town Fair outfit, Kirsten's Skating outfit, Addy's Stilting outfit, Samantha's bathing outfit, and Molly's tennis outfit.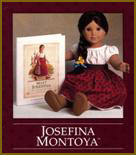 The outfits were only supposed to be available for one year but the supplies lasted longer than one year and the outfits were available until they finally sold out between the years 2000-2002.
The Josefina doll (1824) was added to the historical American Girls Collection; along with her Meet, Lesson, and Surprise books and the matching clothes and accessories.
The American Girl of Today dolls now only come with one blank book Meet ____, instead of the set of six blank books.

1998
American Girl Place in Chicago opens in November. The store features a café, a photo studio to have your picture put on an American Girl magazine, musical theater, and the full line of all the products made by the American Girl Company. The first musical shown was entitled "The American Girls Revue." Matching outfits for girls and dolls were sold based on outfits worn by girls in the musical. The musical ran until September 3, 2001.
Ms. Rowland sells her company to Mattel for $700 million but stays on for a few years to help with the corporate changeover.
The last three books, along with matching outfits and accessories, were added to Josefina's collection. A blue bike is added to Molly's birthday collection. Molly's Miss Victory Costume is now sold separately from the Winter Activities, it is replaced by a working alarm clock, box of tissues, eye drops, and a poster. Felicity's Riding Breeches and Hat added to her collection.
The American Girl of Today "Meet" outfit changes again to the red vinyl jumper with argyle tights and black boots. There are also new matching accessories. The title for the today dolls changes from "American Girl of Today" to "American Girl Today."
1999
The first set of short stories with matching outfits was published for each of the dolls. These outfits included Felicity's her book Felicity's New Sister with her Traveling Gown, A Reward for Josefina with the Harvest Outfit, Kirsten on the Trail with the Checked Dress & Apron, High Hopes for Addy with the Striped Dress, Samantha's Winter Party with the Skating Party Dress, and Molly Takes Flight with the Aviator Outfit. The "World" books are also added to the historical girl line. The Party Dress & Spencer Jacket outfit is added to Josefina's collection along with her extra ribbons and shoes and socks.
Also this year marked the first year that the American Girl Collection was available to customers online at americangirl.com.
2000

Ms. Rowland retires from Pleasant Company. American Girl becomes the main trademark name for the company and the Pleasant Company logo pretty much vanishes. Heavy retirements begin from the historical doll line. Felicity is hit especially hard.
Kit (1934) is added to the historical girls line. Again she first comes out with only the first three books in her collection as well as the matching clothes and accessories.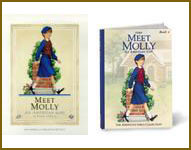 All the book covers for the historical doll books change from a white and parchment colored book to one with more scenery in the background. The spines are different colors for each of the dolls. Dust jackets are added to the World books which also have a cover design change.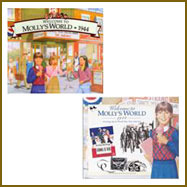 Molly's birthday table changes from the wood drop leaf version to the red chrome style. The second set of short stories is also added for each of the historical dolls.
The "Meet" outfit for the American Girl of Today changes to the Urban Outfit, there is a new set of matching accessories as well. The first limited edition holiday outfit with matching accessories is introduced. Each year, during the holidays, a special dress will be introduced that will only be available for a few months at the end of the year.
2001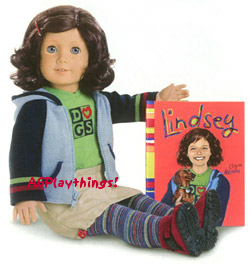 The second set of books, clothes, and accessories is added to Kit's collection.
Lindsey, the first in a series of limited edition dolls, is introduced. She is a modern doll, but she comes with her own story and two sets of accessories. Lindsey was only available for one year.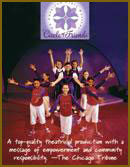 The third set of short stories was introduced to the historical doll line. Felicity is removed from the catalog with a message saying that she will only be available on-line and in limited quantities from American Girl Place.
A new musical begins at American Girl Place in Chicago called "Circle of Friends: An American Girls Musical." Again, matching outfits from the show are available for both girls and dolls.
2002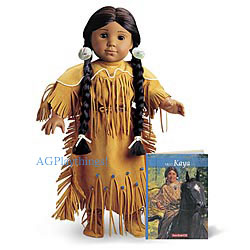 Kaya (1764) is added to the collection and billed as the "First American Girl," this leads one to wonder if there will not be any dolls from periods of time earlier in history than Kaya, such as a pilgrim doll from the 1600's. Her entire collection is introduced at one time, however is it noticeably smaller than the collections of the other dolls.
Travel Adventure books are added to Molly's and Samantha's collections. There is also a matching outfit and set of accessories to go with each of these books.
The fourth set of short stories is added. This one includes the first short story for Kit. Other additions to the book line are the story collections and The Best That I Can Be book which comes with a CD featuring the American Girls Anthem. The book features illustrations from all eight of the dolls' books. The story collections for all of the dolls, except Kaya, feature all six books in one volume, the peek into the past sections are not included in this book, except for the one from the Changes for____ book. Welcome to Kit's World is also added.
The "Meet" outfit changes again for the girl of today doll to the Go Anywhere outfit with matching accessories. The blank book that the doll comes with also changes to Friends Forever which is a journal type book that the owner of the doll can use to record her doll's likes and dislikes; it also includes a scrapbook section with stickers.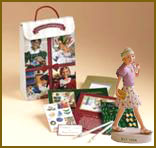 The Chicago Cubs baseball league sponsors an American Girl Day at the stadium. The first 5,000 girls at the stadium on July 16th received a promotional doll-sized Cubs jacket and cap.
American Girl begins an affiliation with Hallmark cards to feature American Girl doll related ornaments and merchandise in select Hallmark stores throughout the country.
2003
A new set of short stories with matching outfits is introduced for all of the historical dolls except for Kaya who only gets a new short story and Felicity who has neither a new outfit nor a short story. These sets include Kaya and the River Girl (no outfit), Thanks to Josefina and the Weaving Outfit, Kirsten's Promise and the Plaid Dress & Shawl, Addy's Summer Place and the Cape Island Dress, Samantha's Special Talent, and the Talent Show Dress, Kit's Tree House and the Tree House Outfit, and Molly's Puppy Tale and Victory Garden Dress.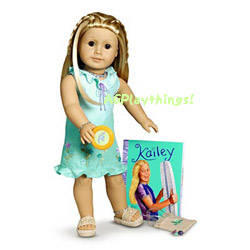 The second limited edition doll, Kailey, is added to the collection and will only be available for one year. Her collection is a bit more extensive than the one offered with Lindsey as it includes and extra outfit with accessories and a pet dog.


A new outfit is added to Kaya's collection, the Shawl Dance Outfit.

The American Girl Today logo changes for a second time. The hangers included with the AG outfits also change to reflect this new logo (in the right).

The second American Girl day at the Chicago Cubs stadium was on June 26th where the first 5,000 girls were once again given a promotional doll sized piece of Cubs memorabilia. This time it was a little Cubs jersey, featuring the old Cubs bear mascot, and a matching cap. The New York Yankees had a similar event where the first 10,000 girls received a doll sized Yankees jacket and cap on august 20th.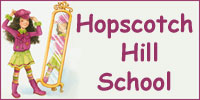 August 2003 Hopscotch hill is debuted. The product is designed for ages 4-6 with 16"dolls and accessories themed around classroom play. Early reading leveled books are written by Valerie tripp. Dolls had poseable heads arms and legs and came with a school outfit and paper back book. Other accessory sets included desks, books, outfits, carry cases, and activity boards.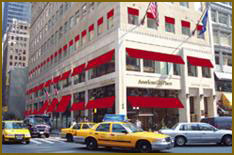 American Girl Place New York opens in the fall of 2003. This store also contains a café and theater in addition to the many products offered by American Girl.
2004
January 2004 Pleasant Company officially becomes "American Girl" Changes had already come to the catalog by this point.Now the company would be officially recognized in the market Place as American Girl. The Pleasant company name still remains as the official publisher name for American Girl books.
New outfits are added to Kirsten's, Addy's, Samantha's, Kit's and Molly's collections. These new outfits do not come with short stories and are not based upon clothing seen in any of the previously published books for each doll. Kirsten's outfit is her Midsummer Outfit, Addy's is her Kite Flying Outfit, Samantha gets her Lawn Party Outfit (with croquet set) and shoes and socks sold separately, Kit has a Red's Fan Outfit, and Molly's outfit is a Dude Ranch Outfit with boots sold separately.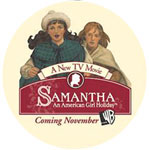 A new movie, entitled Samantha, An American Girl Holiday based on the books from the Samantha series is scheduled to debut on the WB network later this November. The movie will feature live actors not animation. Along with the movie a Nellie doll (with book Nellie's Promise) and mini Nellie will be introduced to coincide with the release of the Samantha movie. It sounds like Nellie was not limited edition doll and has accessories such as the usual hat/purse set, a coat, a holiday dress, her own doll, and a pajama's.
| | |
| --- | --- |
| 18 Inch Nellie and Samantha | Mini Nellie |
In addition to Nellie there was also other movie related merchandise such as Samantha's Valentine Crafts, and Nellie Trading Cards.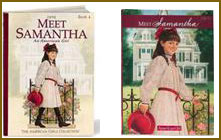 The Samantha book covers will also changed, however the rest of the historical doll books stayed the same if only for a short time. Slowly the other dolls covers were also given new art work and design.

American Girl Days at the Cubs and Yankees Stadiums were planned again for this year. The Cubs gave away promotional American Girl Cubs home uniforms to the first 5,000 girls on August 22nd, and the Yankees had their American Girl Day on August 9th with Yankees home uniform give-a-ways to the first 10,000 girls. This year there was also an American Girls Day with the Cincinnati Reds on May 8th with a promotional give-a-way for the first 5,000 girls. The Reds give-a-way was a 1930's doll sized replica of a Red's uniform. It was the same as the cap and jersey included with Kit's Red's Fan Outfit.
Special Olympic related outfits, in honor of the Summer Olympics this year, are introduced for the Girls of Today and include a riding outfit, horse, gymnastics outfit, soccer outfit, and agility set for Coconut.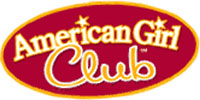 The American Girl's Club which is an online club where girls can chat with other members and earn stars by reading American Girl books and doing trivia. The stars can be used to purchase exclusive club merchandise, such as the American Girl Club Fan Outfit or girls or dolls.
September brought other company changes. American Girl place introduced Bitty Bears Matinee a new theater production aimed at younger audiences.
"Bitty Bear's Matinee: The Family Tree™ is a new audience participation family theater production for children ages 3 and up that celebrates the virtues of family and friendship while teaching age-appropriate skills such as sharing and working together. Based on the Bitty Bear books in American Girl's popular Bitty Baby® doll line, the live musical performance is done in story-theater style, featuring three of the lovable Bitty Bunch characters—Bitty Bear, Bitty Puppy, and Bitty Kitty."-Press Release 10 September, 2004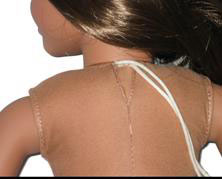 The construction of the American Girl Dolls changes slightly. A "v" shaped piece of fabric is added at the spot where the strings come out. This piece of fabric helps to eliminate the bunching that used to occur around the neck.
back of Marisol
2005
Samantha and Nellie receive new Valentine's Day outfits. Also the rest of the book covers for the historical dolls change to the same format as the new covers for Samantha's books.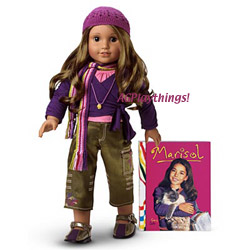 Marisol, the 2005 limited edition doll is introduced to the collection and thus far has the most accessories for a limited edition doll as she comes with a pet, a trunk, rotating stage, and four extra outfits.

The logo for American Girl changes and they emphasize following "your inner star."

American Girl begins a line of heritage outfits. Kaya, Addy, and Nellie each receive a modern outfit for today that reflects their culture and heritage. Kaya's outfit is a Pow-Wow dress of today, Addy's is an African Dance costume, and Nellie's outfit is an Irish Step Dancing costume. These are not outfits that the characters would have worn during the time periods their books take place, rather they are outfits for today's girls based on the heritage of Kaya, Addy, and Nellie. The outfits are, however, a part of the historical doll line.

Giveaways at The Chicago Cubs, Cincinnati Reds, and New York Yankees will take place again this year. The Cubs American Girl Doll Day is July 28th with the first 5,000 girls receiving an American Girl Doll Cubs road uniform, the Reds will be giving the first 6,000 girls an American Girl Doll Reds road uniform on August 6th, and the Yankees will give the first 18,000 girls and American Girl Doll Yankees road Uniform on August 28th. Pictures to follow as soon as they are available.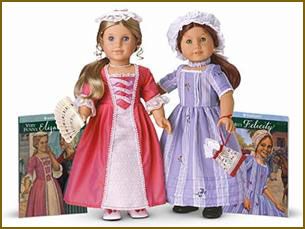 Elizabeth, the next in the line of "friend" dolls for the historical dolls, was added to the collection as Felicity's Friend along with her book Very Funny Elizabeth. Other items in her collection will included: a riding outfit, tea lesson dress, holiday gown with cape, her own fashion doll, a nightstand with nighttime necessities, bed with bedding (her bed is the same as Felicity's 4-poster and the bedding can be bought separately), and a night gown. For Felicity there will be a new yellow tea dress also her green riding habit and guitar will be re-introduced. The two girls can share a horse drawn carriage, a stable set with Patriot the foal, a new tea set, and a new clothes press. The dress which Felicity comes in also changed. When purchased, Felicity now arrives in what used to be her purple Travel Gown which is no longer available separately, felicity's accessories changed as well. There will also be a mini Elizabeth doll and I assume that the mini Felicity doll will change to reflect the new dress Felicity comes in.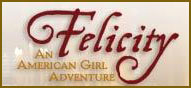 The release of the Elizabeth doll again coincides with another American Girl movie. This movie entitled "Felicity and American Girl Adventure: will air on the WB on November 29, 2005.
18" Elizabeth and Felicity with books
2006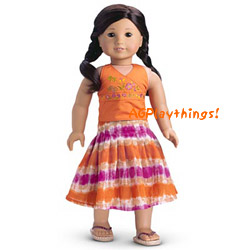 January 1, 2006 marked the release of American Girls 4th Limited Edition Doll. Jess is a girl who is traveling with her parents to Belize. While they work on an archeological dig, Jess is home schooled and goes on a few adventures of her own in the Central American rainforest. Jess is the first multi racial doll. Her parents are of Japanese and Irish decent. She is also the first Limited Edition doll to receive a middle name.
Kit, Molly, and Samantha also receive new "Rolling Through Time" outfits and accessories. Kit gets a scooter, Samantha a tricycle, and Molly some new roller skates. At the same time Molly's party accessories are retired. As is her Miss Victory outfit and her bed and trunk. All of this is pending with a re release of new items and accessories when Emily finally arrives.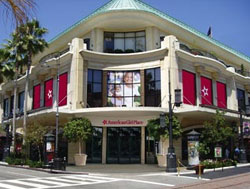 With spring also comes the opening of American Girls newest location in the Grove, a suburb of Los Angeles, Ca. This location is cited as an "experimental" location. That statement is leading collectors, and fans, of the product to wonder what other locations they might have in store for the future.
Summer sees a re-release of Molly's bed with a few changes. She has a throw pillow and rug added to her bedroom set. In the fall Molly's friend Emily Bennet, along with her book Brave Emily, is released to coincide with the Molly movie Molly: An American Girl on the Home Front shown in November on the Disney channel. Some of the new accessories for Molly and Emily include a large stage with 5 interchangeable backdrops, theater seats, winter outfits, Yank the dog, the Miss Victory Costume re-released, more bedroom furniture for Molly including a new armoire and vanity table, and of course several outfits for Emily.
2007
On December 31, 2006 Jess and her collection was retired to make room for the new limited edition doll and her accessories. On January 1, 2007 Nicki was released. Nicki's story takes place in Colorado where she spends her time riding her horse, Jackson, and working with Sprocket who is training to be a service dog. Nicki was released with the following accessories: a shorts and tee outfit, a fancy party dress, a riding outfit (complete with chaps), cowboy hat, Jackson the horse, Jackson's tack box, and Sprocket the dog. The book included with Nicki is entitled Nicki, however there will be a second book, Thanks to Nicki, released in May of 2007. Nicki is the first limited edition doll to have two books.
Several new items are added to Molly and Emily's collections. Finally a Flutophone for Emily, which featured so prominently in the book Brave Emily, a set of percussion instruments for Molly, and recital outfits for both dolls.
---
Finally I'd like to leave you with the message that was once printed on the backs of the Pleasant Company catalogs. I feel that this message, written by Ms. Rowland captures the importance and meaning that the Pleasant Company dolls have had for so many of us:
"Deep in the basement of a small museum lies a tattered, water-stained doll trunk. Open the dusty lid and the long-ago childhood of some lucky young girl comes instantly to life.

Tucked gently inside is a beautiful porcelain doll—dearly loved and much played with. Dressed in blue silk and surrounded by marvelous accessories, this doll and her tiny treasures were the cherished possessions of their owner—possessions so special that they were put away until some faraway day when her own little girl could delight in them.

I discovered this trunk by chance more than a year after I had begun working on the American Girls Collection. It served as a powerful reminder of why I had begun the collection, and what I hoped it would accomplish.

At an age when girls are old enough to read and still love to play, they need books and dolls that capture their imaginations. The stories in the American Girls Collection come alive with beautiful dolls and period doll clothes. The doll accessories are replicas of real things found in times gone by. They are quality pieces—not plastic playthings—and are made for children over eight years old to treasure.

I hope the American Girls Collection will be dearly loved and well played with and then passed down to other generations of girls tomorrow—a reminder that growing up in America is, has been, and can always be an experience to treasure."
– Pleasant T. Rowland